Arizona Shinkendo Shibu
|
home
Shinkendo at ASKA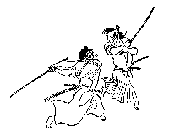 Shinkendo, Japanese Swordsmanship
General Information
Our Goals:
During the course of training students in Shinkendo your instructors focus on:
1). Teaching effective Japanese sword techniques and strategies.
2). Improving levels of physical conditioning, coordination, and adaptability for each individual.
3). Expanding individual knowledge of the history of the samurai and the Japanese sword.
4). Promoting individual growth and development in the art by assisting students in discovering and enhancing their strengths, and working around or through personal barriers in training.
Benefits of Training:
During the course of regular training, students can expect to see improvements in the areas of:
1). General strength and stamina in both upper and lower body.
2). Balance, ease of movement, and general coordination.
3). Awareness of self and surroundings, and ability to focus.
4). Knowledge of samurai history and sword strategy.
5). Understanding of the principles and philosophies of the martial arts in general.
Safety:
Safety in training is our top priority! Self-control and mindfulness of our partners and our surroundings are considered to be an essential and constant feature of the training process.
Minimum Age:
For safety reasons, we generally accept students no younger than 13, but we are willing to make an exception to this general rule if a younger student demonstrates sufficient levels of courtesy, focus, self-control, and willingness to learn.
Experience & Fitness Level:
Because skill, strength, stamina, and coordination, are elements that you will naturally develop over time as a part of a regular training program, previous experience and natural athletic ability are not required to begin training.
Training with OBata Sensei
There are alot of different styles of martial arts available to us today that were founded by brilliant practicioners. Unfortunantely, most of these great men have eather passed on or are no longer actively training. Toshishiro Obata is still with us and actively training, and he continues to develop his arts which makes Shinkendo an evolving, vibrant style. Better still, there are opportunities to train with this great man, as he visits the valley every year for seminars, and we organize a trip to LA each year to train with him as well.
Japanese Language:
While in training in Shinkendo, you will encounter a number of Japanese terms, but don't worry, you will learn and get used to these through hearing them repeatedly during training, and we will always say the English equivalents until you do!
Thank you for your interest in Shinkendo, and we look forward to working with you in training soon! If you have any questions that remain unanswered, please feel free to contact us via e-mail or phone.
Jeff & Marlene Harris, Instructors
International Shinkendo Federation
Business phone: 480-655-0129
For more information about Shinkendo and Japanese swordsmanship, visit the web site of our chief instructor, Toshishiro Obata, at:
shinkendo.com!